Sunny 102.1  plays a wide variety of familiar hits. The music is soft enough for office listening, but lively enough to turn up and enjoy.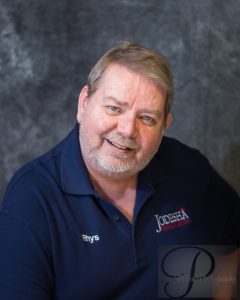 Rhys Davis came to the Twin Harbors in 1978 and has been "inside your radio" since.  Rhys was named "Best of" by the Daily World newspaper each year for more than a decade.  In 1998 he joined Jodesha Broadcasting as the morning man on Sunny 102.1  Rhys is a veteran of the US Army, receiving training at The Defense Information School in newspaper reporting and editing.  He spent 2 1/2 years as an editor/reporter for an Army newspaper in Southern Germany (Bavaria).  He received his radio training at Bates Technical, and went to the small mountain town of Burney, Ca. to begin his broadcasting career.
"I really love my job!  So much so that I retired for 18 months, and came back home."  "It's so much fun to be there in the morning with people getting up, going to bed, and already at work."  And, I really get a great view of the world going by on Simpson Ave."
Rhys Davis is heard from 6-10am Tuesday – Friday on Sunny 102.1.  Don't forget to get your Birthday announcements to Rhys before 7:30 am… 360-538-1021.  And honk or wave when you drive by!!